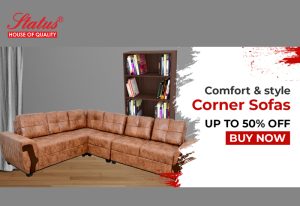 After the worldwide pandemic attack, the supply chains are disrupted and it has become difficult for retailers to fulfill orders. Every commodity in the market was affected by the lack of transportation and e-commerce service. Nevertheless, the furniture market tycoon says, even though the industry has suffered heavily, they were able to regain a good amount of net projected income at the end of the year 2020.
There are several factors knot the immense ballooning of the furniture industry and it certainly allows the maximum likelihood to be broadly optimistic.
Prices are up surging because raw material and logistics costs for manufacturers are rising. Their margin is already thin, so they have no other choice. Jerry Epperson quotes, " Increase your margin. Your expenses are going up too.
Economists predict excellent economic conditions for the upper end.
Upper-end consumers have actually paid off debt during COVID and are spending very little on "experiences" such as travel, entertainment, and gas. They are spending significantly more on renovation and purchase of household items. Unsurprisingly, just try to hire a contractor in any major or small city. They are booked for months in the future. Furniture always follows renovation.
Housing numbers are bullish.
 Changes in distance work and distance education have greatly increased the amount of time spent at home. The homeowners are currently investing more in their homes to make better use of the space they have. Families that have found themselves with very little space have sought more in search of either larger apartments or single-family homes. The implications for the housing market will overtake the epidemic. We can expect strong sales of furniture not only in 2021 but throughout this decade.
Wealth transfer from Boomers to Millennials.
According to Accenture, Boomers are expected to transfer more than $ 4 trillion to Millennials by 2030. At its peak between 2031 and 2045, 10 percent of the total wealth in India would change every five years. The rapid pace of this transfer, along with generational differences, will have a dramatic impact for the furniture industry.
We will stay in the house until we get vaccinated.
The vaccine rollout is moving much slower than many people expect. This is terrible news for those of us who have cabin fever, but good news for the furniture industry. The longer we stay in the house, the more likely it is that we will be dissatisfied with our equipment. Even after vaccination, the world will not remain mentally intact. It will take a long time for people to be comfortable traveling.
Little do we know about the long-term effects of herd immunity or vaccines. Our homes are likely to become more important for the long term to come.
It also suggests that shopping and shopping needs to be an online strategy.
Consumer confidence is short-lived.
 The Conference Board noted that the recent resurgence in COVID has led to a significant decline in consumer confidence. "Going forward in 2021, consumers expect neither the economy, nor the labor market, to gain strength. In addition, the resurgence of COVID-19 is further increasing uncertainty and raising concerns about the approach." Consumer confidence is a key indicator of future furniture sales. This is somewhat worrying, but remember, global trust is not as important as the trust of your target customer.