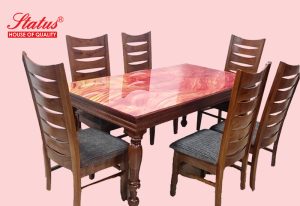 Valentine's Day is right around the corner but given the certain circumstances of the pandemic, you might choose to spend your day at home. But don't worry because we are going to tell you the ways in which you can make your Valentine's Day just as magical at your home dinner table.
Just like the theme suggests, make sure you have a lot of red props ready to be decorated. You can put a red or a white table cloth on the table and arrange some nice silverware or glass crockery on it. If you have wine glasses, they can definitely be an add-on to enhancing the mood of you and your partner. Shop Modern Dining Table from Status Furniture to make your Valentine Day very special.
You definitely don't need to spend a ton of money to create a magical evening at home because Romance can be brought even without breaking bank.
Arranging the table
Apart from using all the Reds, if you are someone who prefers and has subtle colours at home then you can use some pretty pastels of table cloth, table mat and some beautiful candles to warm up the night. Pastel pink can be an adorable option if you're planning to go light. This will make your dinner table look a lot more sophisticated if bold colours aren't your choice. You can set up your table in a way that is ideally set an a restaurant and you can fill it with the decorations that you love. You can use flowers, candles, aesthetic deserts etc To make your table look more attractive. And how about you throw in some catchy handmade cards for your partner, just for Some extra sweetness.
Hearts all the way
Valentines is all about love and love speaks from the heart. So getting some inexpensive heart shape crockery or props that are in the heart shape can actually make your valentines table look quite attractive. You can even look up online and learn how to fold your napkin in the hot shape to place on the side of your table mat. There are so many chocolates and biscuits available in heart shape especially during the time of valentines and even beautiful heart shaped candles to spark the lovely vibe.
And who says you're too old for balloons, everyone loves the balloon decoration and you can add the same in gold pinks and red colours with some sparkle in them. They are just going to look as sophisticated as those flowers and glass dinnerware. Status Furniture is the Best Furniture Shop Online
Personalize
Personalizing anything not only is very romantic but gives away a very fond message to your partner. Being at home doesn't mean that you can't surprise your partner. Adding a heartfelt personal note on the table will give Justa right romantic touch to your dinner evening. Let me seem cheesy a little, but let's be real all of us love some handwritten notes and if those notes express our partners love for us, we are going to love it some extra.
Apart from some personal notes you can also add name cards or a little printout of the menu that you have for the night or maybe even print out the lyrics to your song that you would love to sing after dinner together. During The desert you can even hide a little piece of paper or a gift under their plate or underneath their desert just for a little surprise. .
Best Furniture Store in Chhindwara The best thing about spending Valentine's Day at home is that you can customize your choice as your wish and do that all In an inexpensive way. We hope our ideas can turn your night a little more magical and help you at that little spark of Romance right at home.