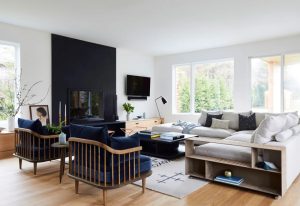 Is every day watching your old, drab living room? Well, if it's not sparking joy, then it's time for a change. Furniture in Chhindwara has excellent advanced furniture to make your living area very cool and stylish. The living room is perhaps one of the most important rooms in your house because it is where families spend the most time and host guests. Making a good impression is important and having a space that inspires you and uplifts your mood is also critical. So, here are a few ways to revamp your living room and make it beautiful to look at.
 Add a statement piece.
Do you have a home theater system you want to show off? The best collection of status furniture will help you out. It is always a good idea to have a statement piece as the showstopper in your living room, and design the rest of it around that piece. Place this piece, which can even be a couple of small coffee tables, at the center of your living room. Against the farthest wall, it will act as an anchor to your vision whenever you step into the room.
Invest In a Quirky Rug
A fun rug or carpet can take away some of the sharpness of your marble or bamboo flooring. Apart from providing a softer surface for your feet, it also elevates the look of your living room and adds to its aesthetic value. If you do not want to clean it too often, you should go for a dark-colored rug, such as the one below. However, if you are looking for a softer, muted color palette, then go for a beige or nude carpet, like the one below.
 Have You Considered Indoor Plants?
Indoor plants in shiny fixtures can transform your entire home decor, giving it a fresh, spring look and vibe. For a more sophisticated look, go for hanging plants in golden fixtures for more creative ideas look at our Modular furniture. Artificial plants are the best option for interior design and home decor in general since they are extremely low maintenance.
A New Sofa Can Go A Long Way
The appearance of your sofa can make or break the entire appearance and aesthetics of your interior design. So, if you have been using the same sofa for 10 years, which has springs coming out, then it is time to dump it and get a new, fresh, and stylish sofa for your living room from the new collection of  Furniture store in Chhindwara . If your living room colour palette is mostly muted, neutral colours and the overall aesthetic is royal and sophisticated luxury, then go for a sofa like the one below, which looks extremely regal. Now, on the other end of the spectrum, if you want a cool, quirky, and out-of-the-box sofa, then go for a more modern and hip vibe that the sofa below perfectly embodies.
 Let's shop for the new arrival!
Those were a few tips to help you redesign your living room and make it drop-dead gorgeous for you and your guests. So, head over to Online furniture in chhindwara, and start shopping from the massive and diverse range of furniture and home decor collection.