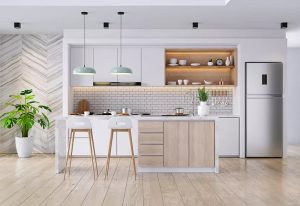 One of the major concerns for Indian homes is the kitchen – how it looks! When you decide to reform your kitchen to modular furniture, there are plenty of questions to address – from kitchen materials to its costing. We at Status Furniture aim to address this major issue and tell you more about modular kitchen designs and prices. A modular kitchen is up to the minute and innovative solution to the challenges posed by traditional kitchens. It makes mundane kitchen tasks easy with its functionality and durability. It is a term used for a modern kitchen layout that consists of modular units, made of different materials, which hold appropriate accessories inside.
Advantages of Modular kitchen, when it comes to functionality and elegance. Here are some of them:
Easy to setup: One of the best features of a modular kitchen is that it is extremely easy to see in  Furniture store in Chhindwara,  . You spend a lot of time and effort to put together your modular kitchen, in return it lets you carry it with you when you are shifting houses. Also, you can replace individual parts of a modular kitchen whenever you want.
Customization: You can build modular kitchens according to your individual requirements. You can choose specific modules from Online furniture in chhindwara, the color scheme, and a design that works best for you.
Best use of space: In traditional kitchens, a lot of your working space gets eaten up. You do not face this challenge with modular kitchens as they are built in such a way that space is used efficiently and you can store a lot of things.
Storage options: The shelves, cabinets, and drawers in a modular kitchens are built for efficient storage with this, it is built to store all that you want and maintain a clutter-free kitchen.
Convenience: With traditional kitchens furniture, you have to deal with carpenters and contractors, they build kitchens on-site and it is usually a mess till the kitchen is complete. But, with modular kitchens, you do not have to deal with such problems. The kitchen parts are made in the factory and then it is assembled at your place.
At Status Furniture, no matter what your budget is, we can design a modular kitchen that fits your budget, lifestyle, and preferences. The cost of designing a modular kitchen does not depend on the square footage. It depends on the factors like size of the kitchen, a major determinant for cost, the type of modules, its complexity, size and depth of the modules, raw materials used, which are some of the other factors. We are expertise in providing you an excellent experience.