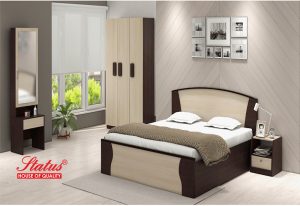 We, at Status Furniture, have been the leading industry in this field since 2000. Status furniture owned by Mr. Nitin Agrawal who is professional and expertise in this field of furniture.
He joined his family business starts with the distribution of electronic and Furniture business in the rental premises of 1000 sq. Ft. showroom at Chhindwara, MP. After gaining lots of experience and keeping thought in mind that how to be more productive in this business he wants to know more about market trend and approach towards the career he went to China for market analysis in 2009. After complete back to Chhindwara he has implemented lots of new technology and pattern of serving the client and the right approach to the delivered right product as per client requirement he creates beautiful spaces for you shifted from 1000 sq. ft. premises to 3000 sq. ft. premises with the latest design along with varieties of the product range for clients in 2010. After getting lots of positive responses and increasing demands of their product range in the market, he has owned his premises of 2000 sq. ft. With the beginning of our new Modular Factory, we have undertaken orders for most renowned govt and Private organization, institutional offices across M.P. organization like CII, AIDC, Ashok Leyland and many more govt and Private sectors, institution, Hospitals, Hotels & Restaurant, etc. With a successful start by importing our furniture in china too, we have come up with our own factories in 2015, Status Furniture has made a name for itself in the list of top manufacturer and suppliers of in India. The supplier company is located in Chhindwara, Madhya Pradesh. The firm manufacturer and supplies of Doors, Kitchen set, Sofas, Beds and Chairs, Wooden furniture, Utility Products for home decor, wooden tables, etc.
We are humbled to have touched the lives of millions of people with our range of world-class home and office furniture, innovative coats, durable designer doors, attractive exteriors, and premier plywood. From being the innovators in quality business to being the leading furniture company and a lifestyle Quality brand we have come a long way since then and the journey, so far, has been an enriching and memorable one and the sky's the limit.
It is our belief that when you purchase a quantity of furniture you are creating an experience, a memory. And it is these skills we endeavor to create for our valuable customers. We have received immense love from our precious clients and we endeavor to bring them new experiences every day.
By inspiring the way, we see and do things leads us to come up with new ideas that motivate modernizations for our clients and associates. In 2020, as per demand from market, one more new segment was added in the quality of services for Metal furniture at our unit but due to COVID-19 there where lockdown so we have to stop working for manufacturing on metal products but now 2021 market given a boost to the Indian furniture manufacturing sectors to promote 'local for vocal' and 'Make in India', we have again restarted metal manufacturing unit and able to deliver the products and to serve you with our quality of service & fulfil the demand of products in market.
We at Status (House of quality) will always strive to serve our customers with the utmost integrity and to their complete satisfaction. At Status Furniture, we want you to discover the joy of creating. Starting with your home. We want you to think of the setting up of a space as an energizing, creative pursuit.