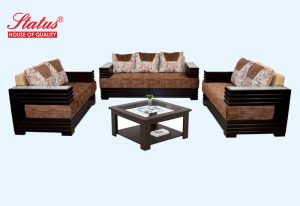 For many of us, winter is the time where we feel quite gloomy and of course lack of sun tends to have that effect on us. But that doesn't mean that we sit back and bear through the grey season. The room that you spend the most amount of time in, which is your living room, can be Amped up in a way, so that it's the coziest place to spend your winters in. Status Furniture  is the Best Furniture shop online in Chhindwara.
So you need to start by adding a beautiful soft rug in the middle of your living room… as it will make the space look cozier automatically. You can also sprinkle some essential oils on the rug for an extra effect. The next thing that you can do is invest in a pretty portable heater/fireplace that you can take from one room to the other when needed. So having hot chocolate on a cold winter evening in front of a heater can make you forget all the gloominess of the day.
Winter is the season of Christmas which means that the colour red is quite in demand. So you may want to change your sofa covers, and other textiles around the room to match the theme. StatusFurniture provides Best Sofa set which is comfortable for sitting.
And now that we have changed the textiles and the flooring according to the winter, how about we tone down to having softer lighting around the room? You can add a few lamps around the living room or put beautiful hanging lights from the ceiling with yellow lights, just for the feels. Having lamps around the room of any size, automatically creates a very cozy and intimate space for you and your family to spend time together.
Also now that you have planned to change your textiles you can also add a throw blanket or throw pillow of an off beat bright colour on the sofa, just to brighten things up a little bit. Even changing the curtains to a pretty bright colour can do the deal.
And who doesn't love candles? Winter is the ideal season to light up those pretty candles that you have stacked above your closet. Glass candles, tall candles, small bubble candles or basically candles of any kind all around the room will give you the look that you're hoping for. Adding fragrant candles around the room will not only make your house smell amazing but will also give that extra little warmth around the house.
 Who said you cannot cuddle up in your living room? Whether you are alone or with your family you can always throw in some blankets, especially the fluffy ones on the rug or on the sofa and cuddle up with a glass of hot chocolate and watch your favorite shows on TV by shopping Best TV Units . Adding blankets automatically makes us feel that we can cozy up in any place and especially during the dull winters, cozying up is just what you need.
For more details Call us on- 7049912201 or visit our store- Visit our Store to get more Discount at- Near L.I.C. Office, Oppo. Malvi Pump, Parasia Rd, Chhindwara, M.P 480001